Published 20 / 12 / 2021 Reading time: 3 min
On vacation, discovering new activities helps brighten up your daily life. Trottup popularizes all-terrain electric scooter excursions all over Gruissan. Get on your new mount and explore the beauty of the ponds or that of the vineyards thanks to this activity as fun as it is sporty.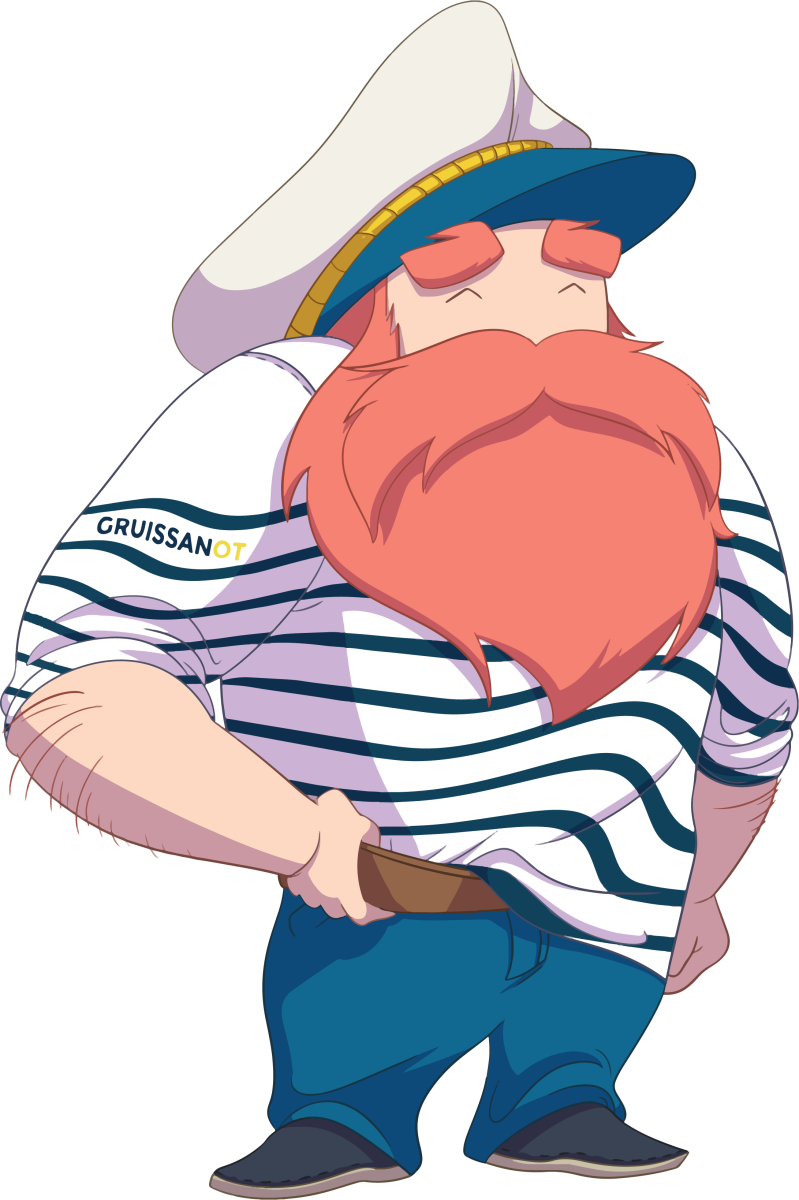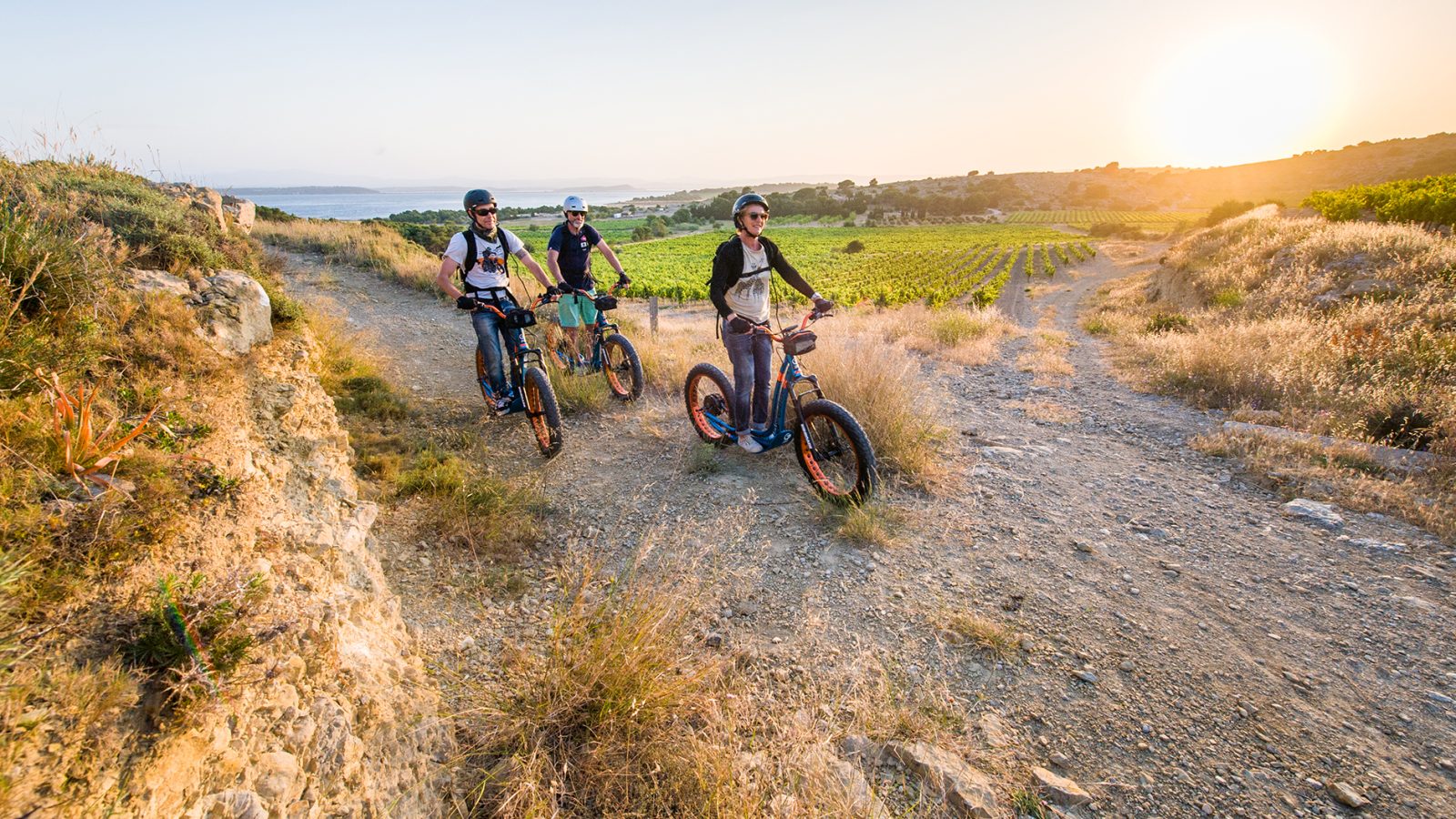 Easy and instinctive handling
Who said scooters were just for kids? Scooters have made a big comeback for a few years now, especially in city centers, saturated with cars. Lightweight and manoeuvrable, these two wheels allow you to sneak around while happily working your thighs. But those of Trottup are even more fun thanks to their small electric motor! Forget the calf cramps, the Trottup models spare you the push of the toe. With their big wheels (they look like mountain bike wheels) and their aerodynamic shapes, they will give you wings! Note that this activity is only accessible to people over 12 years old.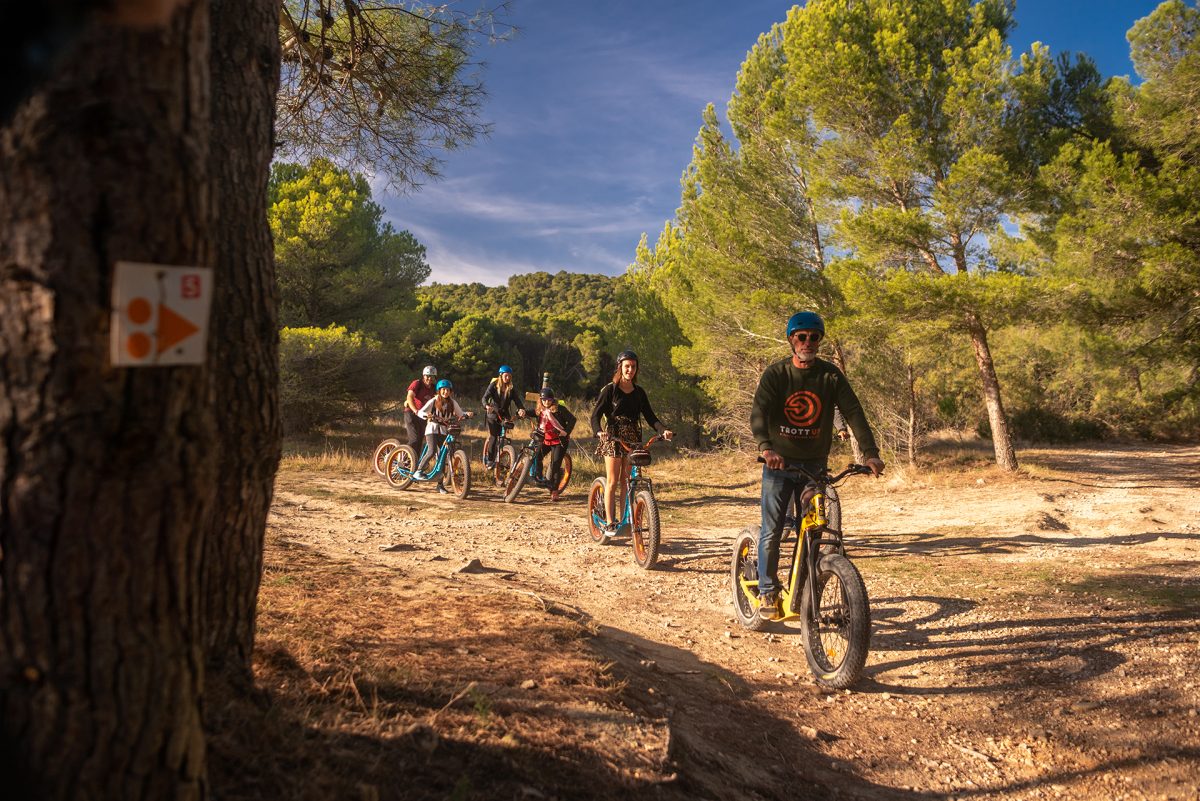 Immerse yourself in the heart of nature
You pack the battery in a backpack that weighs only 3 kg. The guide provides a little training so that you can take charge of your scooter before departure. We have tried it, do not worry, you will very quickly understand how the machine of the day works.
The pebbles next to the pond are no longer obstacles. No grumpy face, no complaints from your teenagers. They run at the head of the group and do not take their eyes off the guide. For your part, you stroll at the back of the peloton, you enjoy the spray and the sun that caresses your face! You are amazed by the ballet of migrating birds dancing above your head.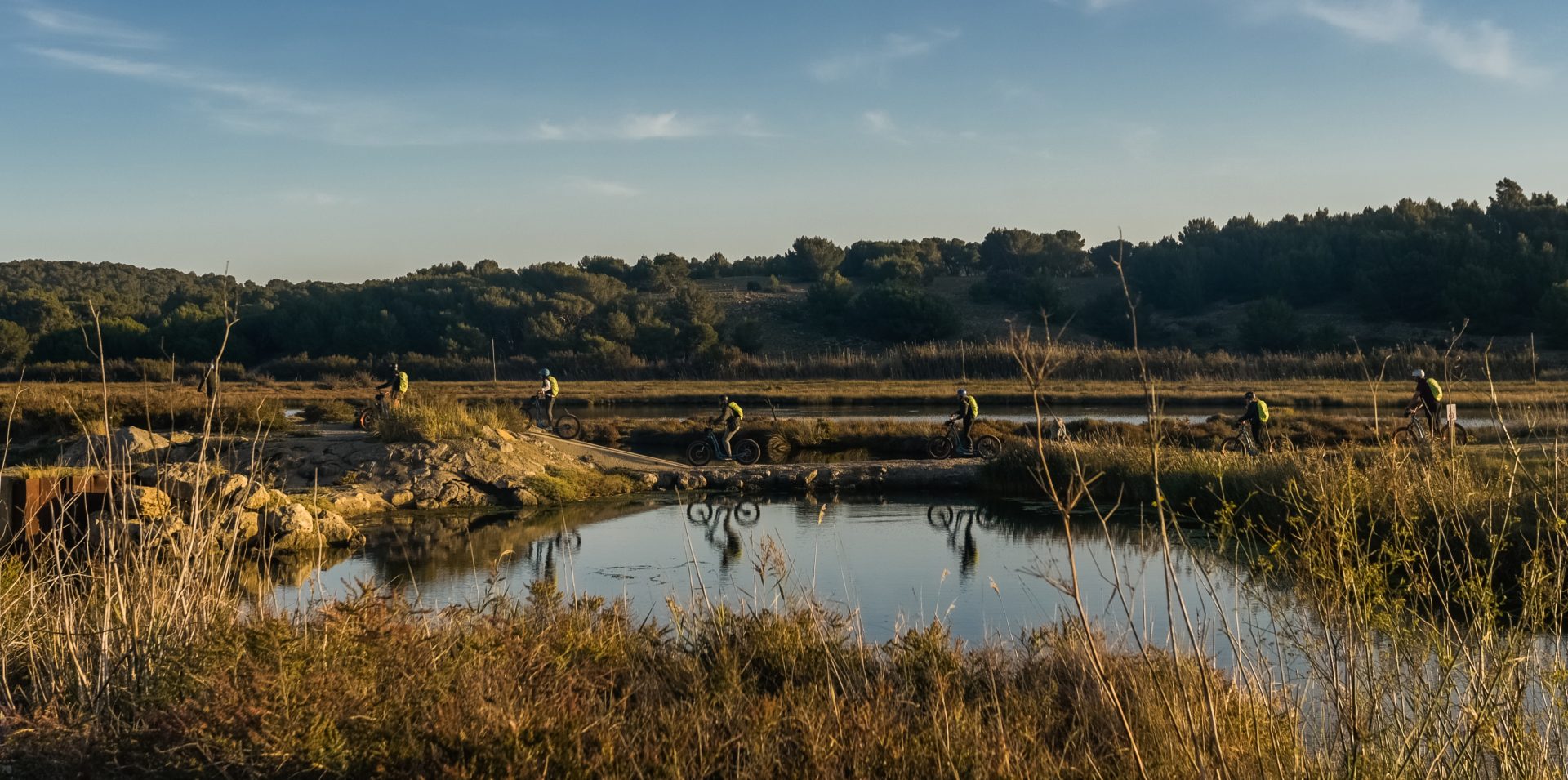 A stroll in the heart of the Narbonnaise Regional Natural Park in the Mediterranean.
A guided tour
The laughter of your teenagers does not stop ringing! Your daredevils explore the performance of their electric scooter. They never stop bouncing and, as soon as the terrain allows it, they even try their first jumps.
You did not expect such enthusiasm from them. It must be admitted that the guide knows perfectly well how to create pretexts to entertain them: he challenges them and even lends himself to the game by refereeing their course. The good news is, they should be happy spending time with their parents!
As for you, you appreciate the guide's comments and explanations. He always makes sure to take a break so that the group can admire the landscape as soon as there is a beautiful panoramic point of view. In addition, each break is an opportunity to discover good plans: this lover of Gruissan knows how to highlight his destination. The visit to the cooperative cellar is, according to him, essential: you notice yourself to take a tour before your departure, just to stock up on good products.
Several routes
Between sporty and exploratory stroll, the Trottup experience has the advantage of seducing the whole family. You did sweat a lot though and are proud to have followed along. You come home with your eyes still filled with Gruissan's beautiful light and your teenagers are already trying to convince you to come back tomorrow! Come on, they won! After exploring the ponds, the fishermen's huts or the Salin de Gruissan, tomorrow's tour will introduce you to the vineyards. Unless you prefer to visit the Oil Mill? Yum Yum!
A great ride with your teenagers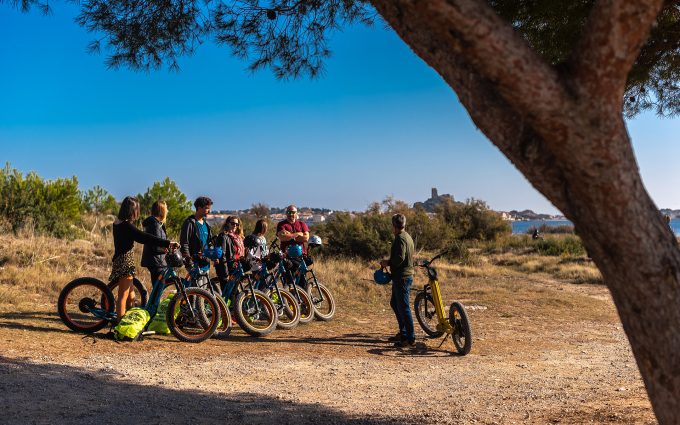 Relaxation break by the pond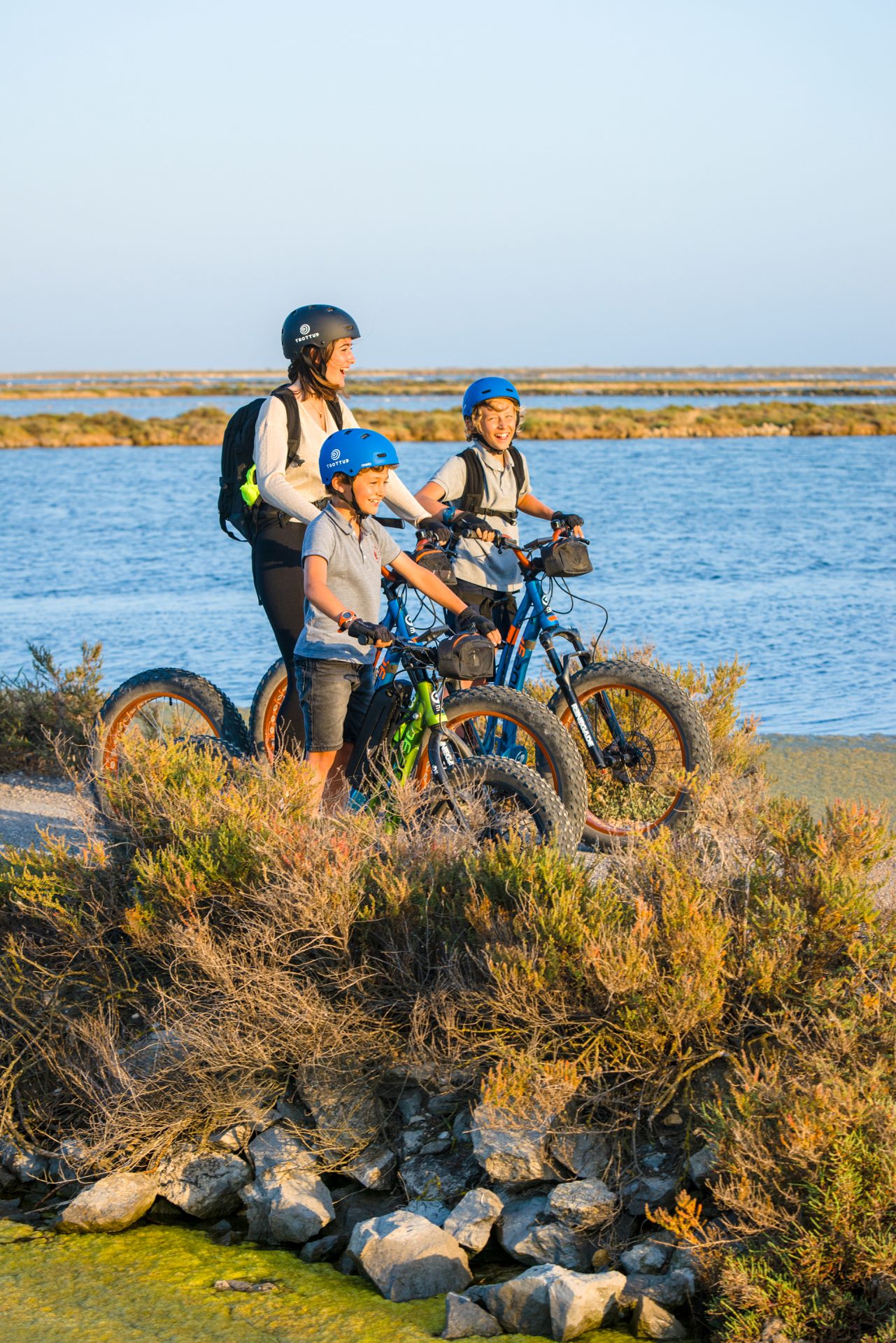 Enjoy a loop concocted by your
guide between holm oaks and lagoons.
You walk some rocky paths,
pure happiness in total respect for nature.
Gruissan, wild by nature.
Walk with Trottup in video