Published 18 / 08 / 2021 Reading time: 3 min
You dream of diving, not in a glass of wine but in the heart of the terroirs of Gruissan. To know everything about the methods of vinification, the grape varieties and to discover the emblematic appellations of the territory: the AOP La Clape and Corbières. The Gruissan Tourist Office offers tailor-made wine tours for amateurs in need of information. [Our "Balades Vigneronnes" are guided tours in French ]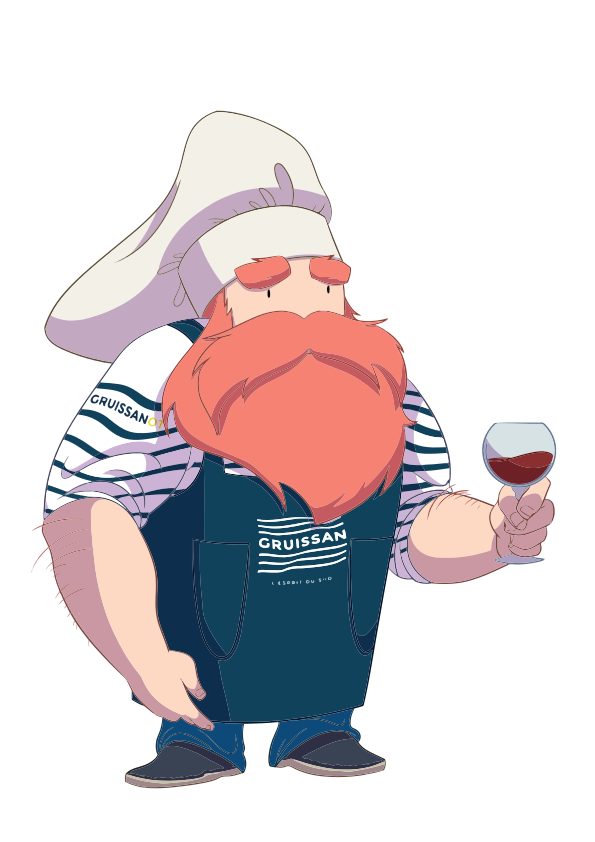 Here, you don't need to have a great knowledge of oenology. The idea is to have a good time with your guide, Alban, who popularizes everything for you. We ask our questions without fear, we explore sublime landscapes. Some vines are surrounded by the Ayrolle pond on one side and the Mediterranean on the other. The whole visit takes place in a super friendly atmosphere.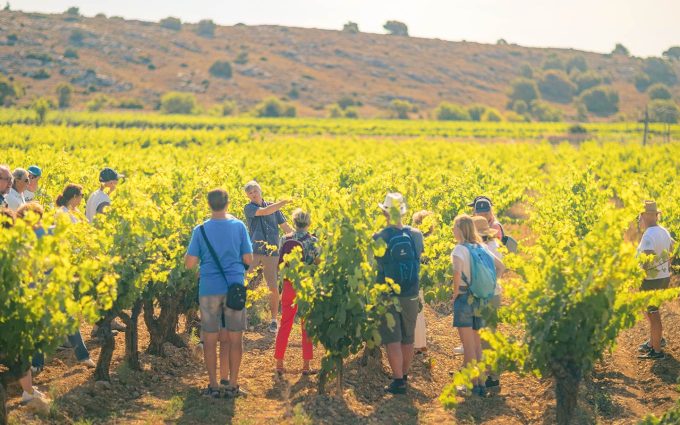 The day begins with a meeting in front of the Gruissan Tourist Office. Your group will then go by carpooling to the area selected by Alban.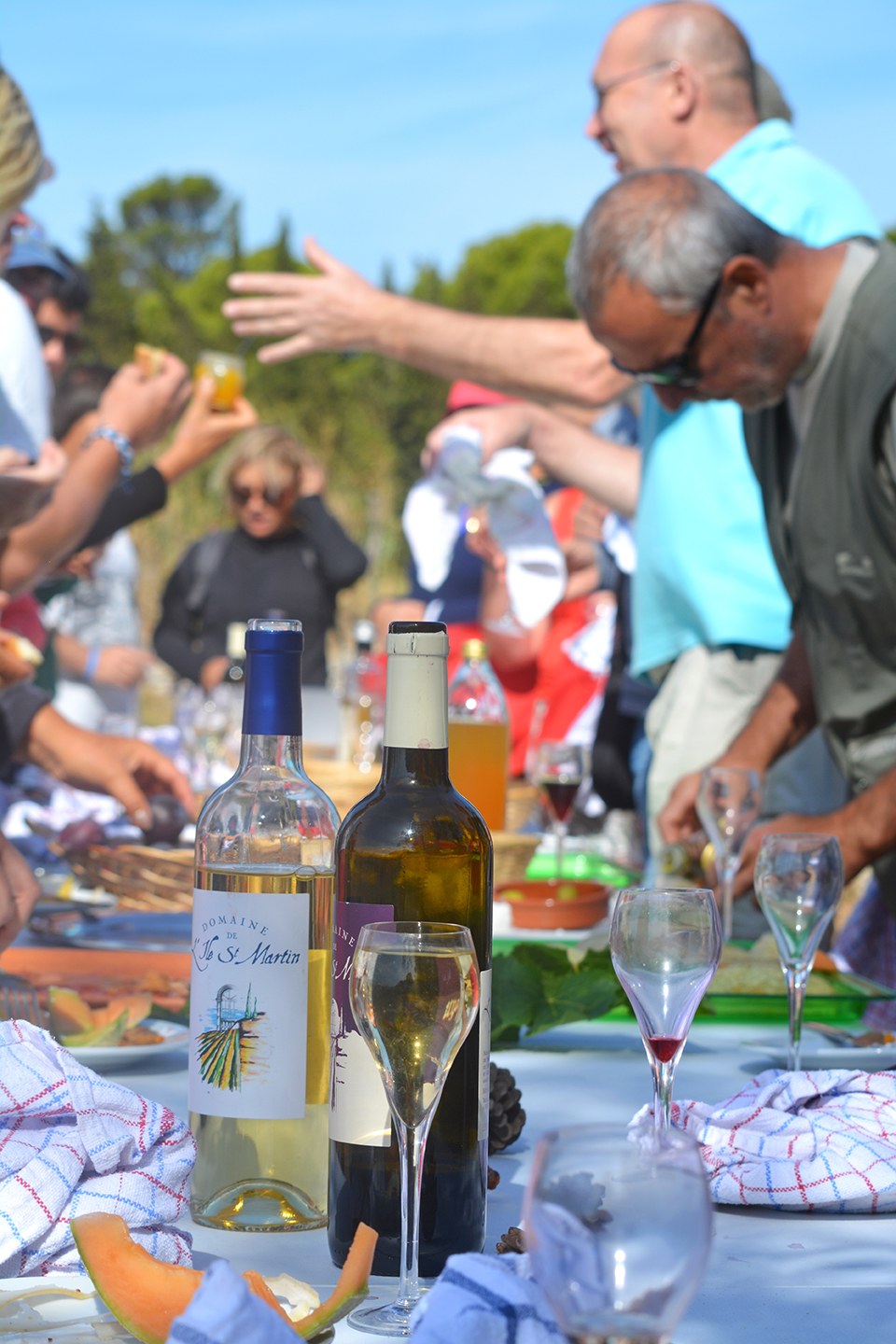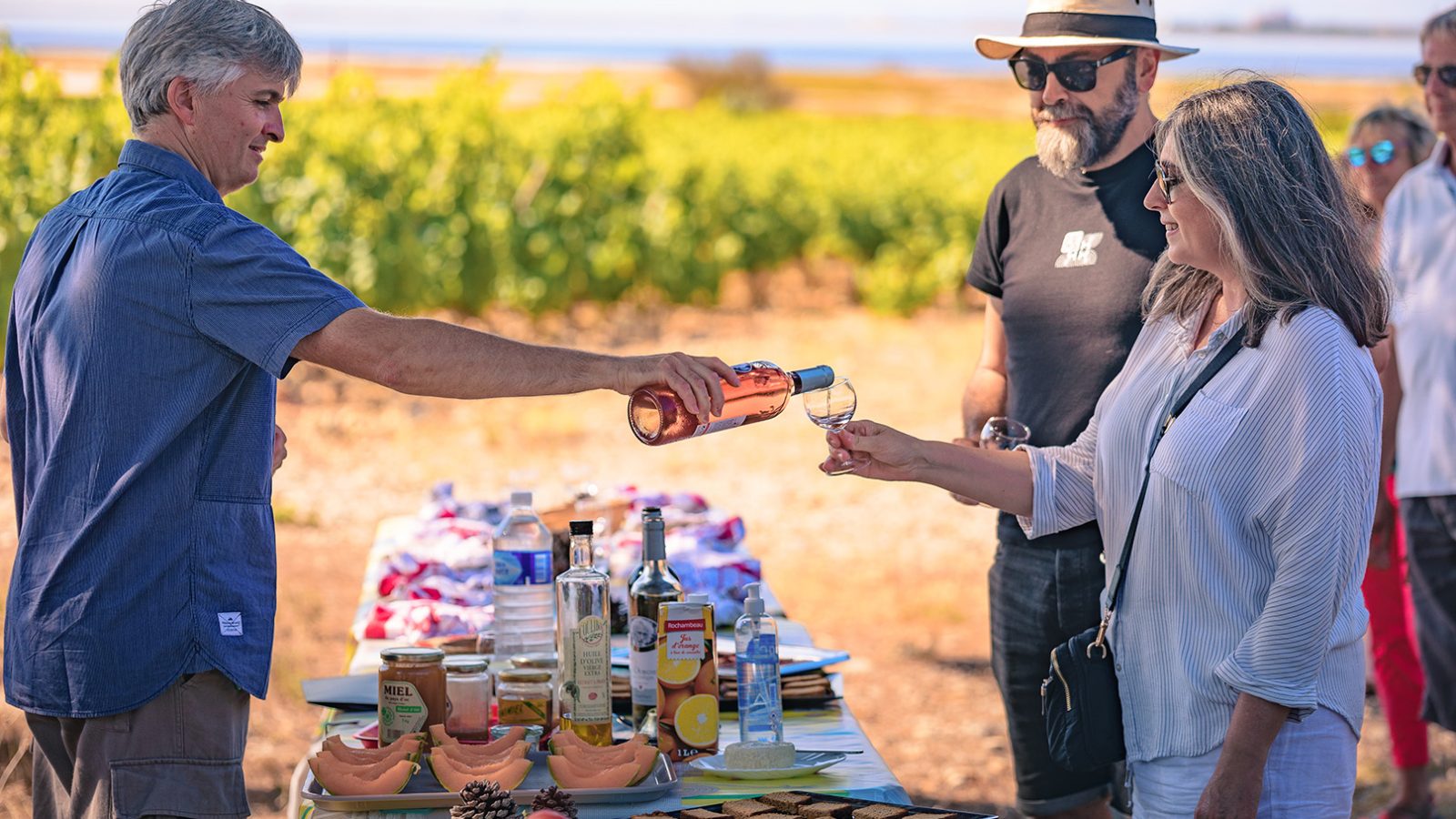 After a stroll between the rows of vines, you meet the producer who invites you to enjoy a breakfast in the middle of his plots. Your taste buds are already awake thanks to a selection of local products all from La Ferme (a cooperative of regional producers). This sweet and savory parenthesis is complemented by a first selection of wines. The sun is shining. You savor these products and, the icing on the cake, you learn the basis of wine tasting in good company. You will be able to shine in society at your next dinner!
Your group is all excited as they make their way to the estate vault. One of the estate workers welcomes you there and explains the winemaking methods. Bourboulenc, Vermentino, Grenache gris for the whites. Grenache, Carignan, Mourvèdre and Syrah for the reds: the grape varieties from here will soon have no secrets for you, or almost (it is still a challenge to make the difference between the grapes of Carignan and those of Grenache in the first a look) ! The tasting continues in the cellar and your friend begins to blush her cheeks.
You give in to the temptation to bring back a case of wine at producer price. You already know you'll be remembering your getaway the moment you open a bottle. The wine helping, you sympathize with the group. Alban is generous in his explanations. All your questions are welcome and Alban has not stopped encouraging you to share your doubts. The image of the uptight tasting is swept from your mind! The walks are done in XNUMX different estates. You decide to register for the next visit the following week. This time, let's go to La Clape!
Discover our walks in video